Blog
Upwards and Onwards: Canary Goals for 2014
January 29, 2014
The beginning of the year presents a cue to reflect on the successes of the previous year, and look forward to goals for the coming months. We're delighted to announce progress with our research that has tremendous implications for future innovations, as well as our ambitions for the Canary Challenge 2014.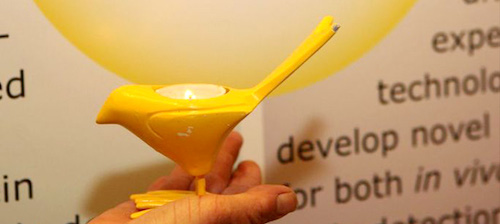 New technologies always evoke excitement and anticipation. Here at Canary, if a scientist wants to use a new technology to advance or improve the ways we detect cancer tumors early, we are all for it. Enhanced ultrasound using microbubble technology is one of these technologies.
This technology will change the way doctors view tumors. Microbubbles are miniature gas bubbles, mostly containing oxygen or air, which can be uniformly suspended in a liquid such as blood. Due to their size, they can pass through even the smallest of blood vessels and therefore are commonly used together with medical ultrasound imaging. As effective vehicles for highlighting blood in ultrasound images, Canary scientists use microbubbles as a contrast agent to view cancer tumors. Our clinical trials in Rome with women who have ovarian cancer have produced great results. Here in the US, we anticipate replicating microbubble technology for applications with breast cancer, prostate and pancreatic cancer.
We also value and actively seek out key partnerships, whether academic or industry. Soon we'll announce a partnership with Genomic Health Inc. in the area of prostate cancer. We're in talks with MD Anderson in Houston to help with coordinating a national multi-institutional lung cancer study.
We have great plans for our largest fundraising event, the Canary Challenge, which is about to get bigger and better than ever. Mark your calendar now for September 27, 2014. Register now for $25 until March 31. The event will be hosted at HP's campus in Palo Alto on Hanover St. We're aiming high this year with a goal of raising $1.5 million, recruiting 150 teams and over 1,500 riders. This year's ride will benefit the Canary Center at Stanford, supporting the researchers, scientists and doctors who are dedicated to cancer early detection. Come be a part of an amazing one-day cycling event!
We're pleased to announce that we will again be partnering with women's pro cycling team extraordinaire, the Vanderkittens, who will host monthly training rides for Canary Challenge riders. Hani Juha, a cyclist and great coach, of Menlo Bike Club will also offer weekly training rides, an annual training program, as well as monthly clinics. We invite anyone and everyone in the Canary community to take advantage of these tailored experiences to brush up on their skills in time for the event.
What are your hopes and dreams for cancer early detection research at Canary Foundation? Let us know in the comments below!