Blog
May is National Cancer Research Month! Support Canary Foundation and Canary Center's 10 years of Catalyzing Change
May 1, 2019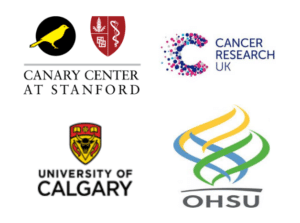 The Canary Center represents a partnership between Canary Foundation and Stanford University, where Stanford embraced Canary's mission as their own strategy for cancer early detection. The partnership resulted in financial support, involvement in our multi-institutional teams, and team management that includes goal setting, project advancement and help resolving road blocks. Stanford committed funds for lab renovations, other infrastructure assets and a rare offering of 8 faculty billets, the first ever fully dedicated to cancer early detection. Canary Foundation provides start-up packages for the faculty positions to get them going until they attract their own funding.
Silicon Valley, a region known for its concentration of technology and biotech development, provided the ideal hub to respond to the needs of early detection. This particular pooling of a strong clinical experience, research, engineers, and bioinformatics is what inspired other institutions to examine their local resources and how to coalesce them into an identified goal. Be it big data, molecular imaging, engineering or a unique research population, each center is adept at offering their dedicated resources for collaboration purposes.
The Canary Center showcases the need for the presence of transdisciplinary entities around one table, combining dedicated people, resources and strategy to an identified viable goal.
Today, this merging of resources is replicated in hubs around the world, not only taking Canary's approach global, but also catalyzing collaboration.
Our collaboration with the centers in Oregon, Calgary, and the UK testify to our approach that investment in talent, expertise and networks is the best way to tackle cancer early detection.
A good example of this international collaboration is Dr. Rebecca Fitzgerald's sponge (Cambridge) used to retrieve cells from the esophagus, and Dr. Utkan Demirci's technology (Canary Center at Stanford) capable of separating a mixed cell population. By combining unique sample types with unique technology, both US and UK centers are hoping to complement each other's work thus advancing cancer early detection.
10 years ago, we were the first physical location worldwide to concentrate talent, resources and partnerships all focused on cancer early detection. 10 years later, our influence has gone global with numerous cancer early detection centers, inspired by Canary's model, helping to push life-saving early detection to the forefront.