Blog
November 14, 2017
Team lead Dr. Samir Hanash discusses biomarker SFTPB's journey from discovery to commercialization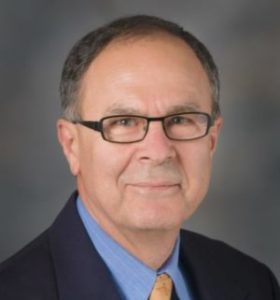 Searching for a needle in a haystack. That's how Dr. Samir Hanash described the long, intensive process of finding a blood-based biomarker to detect lung cancer. So, when the Canary Lung Cancer Team, with Hanash at the helm, discovered a promising candidate called pro surfactant protein b (SFTPB), the potential impact was tremendous, especially since there has been only one other similar discovery to date.
Early validation studies of SFTPB have been so promising that multiple parties – among them The University of Texas MD Anderson Cancer Center and tech startup MagArray – have entered into negotiations with Canary Foundation to do further testing.
As part of a comprehensive lung cancer screening process, SFTPB has the potential to address shortcomings like false positives on CT scans as well as more accurately identify who should be screened and predict how frequently the person should be monitored.
Dr. Hanash recently discussed the discovery of biomarker SFTPB and its potential in a conversation with Canary Foundation that can be read below.
Canary Foundation: Can you explain the current state of lung cancer screening and why it is important to add biomarkers into the process?
Dr. Samir Hanash: The uptake of lung cancer screening with low dose CT has been quite modest in the U.S. and not at all in European countries. Blood-based biomarkers to determine the need for CT would represent a paradigm shift.
CF: When did your search for a lung blood biomarker begin?
SH: It began more than 15 years ago when I was at the University of Michigan.

CF: What makes it so difficult to pinpoint promising lung cancer biomarkers?
SH: Tremendous disease heterogeneity (diversity), limited availability of most informative samples for early detection, the need for in-depth high sensitivity methodology to find the needle in the haystack.

CF: At what point in the process did SFTPB emerge as a potential biomarker candidate?

SH: It emerged when we integrated data from mouse models of lung cancer with human data and lung cancer cell line data.
CF: What qualities does SFTPB have that led you to focus on it?
SH: We have subjected it to a multitude of blinded validation studies, and it came out significant for discriminating between lung cancer and controls.
CF: Validation studies of SFTPB have been very promising. What do these studies reveal in terms of the biomarker's potential?
SH: That as part of a broader panel of biomarkers for lung cancer, it can be an effective tool for lung cancer screening.

CF: Now other groups are interested in further testing SFTPB and Canary Foundation has developed a licensing agreement to facilitate this. Why is additional testing necessary and what are the potential outcomes?
SH: There are many clinical indications related to lung cancer for which SFTPB may or may not be useful.
CF: If further studies of SFTPB continue to produce promising results, what are the next steps? How long could it be before SFTPB is used in lung cancer screening?
SH: That depends on performance in the most rigorous validation studies that meet FDA requirements.
Samir M. Hanash, M.D., Ph.D., is a professor in the Department of Clinical Cancer Prevention at The University of Texas MD Anderson Cancer Center in Houston. We thank him for his insights.
October 24, 2017
University of Calgary cancer researchers to collaborate with top funding group
When you learn Don Listwin has an engineering degree, it all makes perfect sense.
The man who started the Canary Foundation, the world's leading non-profit funding agency for early-detection cancer research, is looking to defeat the disease the way an engineer would. His strategy: prevent the problem before it starts, rather than trying to fix it after disaster has struck.
"Early detection of cancer means confronting the disease when it is most treatable and chances for full recovery are greatest," explains Listwin, founder and chairman of the Canary Foundation, and an electrical engineering graduate. "By focusing our efforts on research dealing with early detection and pre-emptive testing, we are finding and fighting cancer when it is most vulnerable and easiest to defeat."
This week, the Early Cancer Detection Initiative at the University of Calgary officially joins the esteemed list of research programs backed by the Canary Foundation. Since 2004, the foundation has helped fund a select group of collaborative laboratories, starting with the Fred Hutchinson Cancer Research Center in Seattle. The University of Calgary joins the Canary Center at Stanford; the MD Anderson Cancer Center, Houston, Texas; Cancer Research U.K.; and OHSU Knight Cancer Institute in Portland, Ore. on the short list of Canary Foundation collaborators.
For Listwin, cancer is a very personal adversary. Having lost his mother to misdiagnosed late-stage ovarian cancer and watched his father fight colon cancer, the Canadian technology mogul decided to do something about it.
Having previously climbed to the near-pinnacle of his chosen industry — Listwin was CEO of Openwave Systems and had been the number two executive at Cisco Systems — he took on cancer with the same drive and determination, launching the Canary Foundation.
Listwin says early-detection research like that taking place at UCalgary is key to ensuring victims become survivors. "The work taking place here in Calgary on diagnostic tools that will allow for early detection of high-mortality, treatment-resistant cancers is vital to our goal," he says. "We are proud and enthused to be supporting the University of Calgary's Early Cancer Detection Initiative."
A partnership established by the Arnie Charbonneau Cancer Institute between the Schulich School of Engineering, the Cumming School of Medicine, and the Tom Baker Cancer Centre, the pan-university Early Cancer Detection Initiative's mission is three-fold. Namely to develop strategies and methods for non-invasive earlier detection of cancer, discover better ways to predict the behaviour of individual cancers, and accelerate the development of new commercially viable cancer detection tests and technologies.
Led by bioengineering professor Kristina Rinker, PhD, the Early Cancer Detection Initiative team, including medical oncologist Dr. Don Morris and surgical oncologist Dr. Oliver Bathe of the Charbonneau Cancer Institute and the Department of Oncology, aims to engage with researchers across campus.
The goal is to advance cancer detection technology development through providing funding opportunities, fostering interdisciplinary collaborations, and building connections to local and international mentors, researchers, and resources. Researchers are currently investigating new ways of detecting those at risk of developing cancer, through blood tests for detecting early disease, body fluid analysis, and technologies to detect metastatic cancer, among other key projects.
Rinker is director of the Centre for Bioengineering Research and Education, and associate professor of Chemical and Petroleum Engineering at the Schulich School of Engineering, associate professor in the Department of Physiology and Pharmacology at the CSM and member of the Charbonneau Cancer Institute. She says the Canary Foundation's support is a significant boost to the research taking place in Calgary, and it places the university in a position to work and collaborate with the world's best.
"We are very excited to join the dedicated international team of researchers in the Canary network to detect cancer earlier and open doors to stopping or even reversing cancer progression," explains Rinker.
The University of Calgary's multidisciplinary Engineering Solutions for Health: Biomedical Engineering research strategy is focused on developing solutions for pressing health challenges in disease and injury prevention, diagnosis and treatments. Researchers are applying systems engineering principles to continuously improve the health system.
This article by Michael Platt originally appeared on the University of Calgary website (www.ucalgary.ca).
November 21, 2016
Draper offers world-class engineering solutions to philanthropic community
Cancer kills more than 595,000 Americans annually. The Canary Foundation recently presented a gift to Draper to apply its expertise in computer vision techniques to address fundamental limitations of today's cancer detection tools.
Advances in magnetic resonance imaging (MRI) and positron emission tomography (PET) scans have helped clinicians identify cancer faster than ever before. However, these tools often require optimal conditions without which cancer tissue can be missed.
"The Canary gift funds a two-year exploration of combining Draper's expertise in the miniaturization of systems that blend optical sensing and spatial reasoning with vision-based navigation and satellite image enhancement, and applying them to medical imaging," explained Andrew Berlin, distinguished member of the technical staff at Draper.
If successful, Berlin believes advances in computer vision techniques could help break through the noise created by less than optimal imaging conditions — confounding signals.
"Confounding signals are those that introduce features that are difficult to see through," explained Berlin. "For example, an imager may be able to detect a signal from a cancer cell, but a lot of times that signal is confounded by signals from other parts of the body, such as bones. The signals are mixed together within a single pixel. Our goal is to use computer vision to tease apart these different features, figuring out for each point in an image, how much of the signal is due to a feature of interest, such as a cancer cell, and how much is due to other sources."
About Draper
As an independent not-for-profit engineering research and development company, Draper focuses on the design, development and deployment of advanced technological solutions for the world's most challenging and important problems. It provides engineering solutions directly to government, industry, and academia; work on teams as prime contractor or subcontractor; and participate as a collaborator in consortia. Draper provides unbiased assessments of technology or systems designed or recommended by other organizations — custom designed, as well as commercial-off-the-shelf.
August 25, 2016
This mo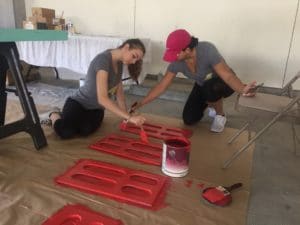 nth, employees from the Canary Foundation, Avaya, and the San Jose Earthquakes all came together to work on painting and decorating a fun and colorful playhouse!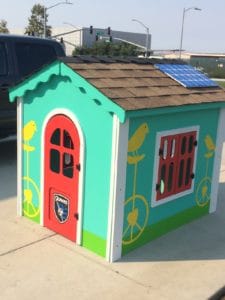 The awesome finished product will be raffled off at upcoming San Jose Earthquakes home games in the Avaya Stadium. Raffle tickets can be purchased from the Canary Center booth before and during the games, which are on 8/24, 9/3, 9/10, 9/24, and 10/1.  At the Oct. 1 game, the lucky winner will be announced!  All proceeds from the raffle will go towards the Canary Challenge and, in turn, the Canary Foundation and its early cancer detection research and development.
July 6, 2016
This quarter, the Whole Foods Market in Palo Alto has selected the Canary Foundation as its recipient for the Nickels for Nonprofits program. When a Whole Foods customer brings their own reusable bags to the cash register, they receive a 5-cent credit. This philanthropic program, cleverly created by Whole

Foods Market, gives customers the choice to either take his/her 5-cent credit or to donate tothe benefiting charity of the quarter. The Whole Foods Market, found at 774
Emerson Street in Palo Alto, has decided to take a stand for early cancer detection research and to serve the scientific community devoted to the cause. Canary Foundation staff will be going to the store to represent the Foundation and our purpose. The Canary Foundation will be the beneficiary of this program for the rest of the third quarter, ending Sept. 25.
June 13, 2016
Nitish Amin is a 3-time Canary Challenge participant and is currently gearing up for his fourth Challenge, riding with team Cisco. In this guest blog he reflects on his love of biking and passion for supporting cancer early detection.
Growing up in India, I biked everywhere, every day, as a child.
I grew up, as we all do, moved to the United States and set biking aside. However, three years ago, I started biking again.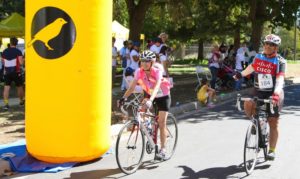 The first time I got on my Cannonade (that's a really great bike, if you don't know) something just felt right. I have that feeling when I get on the saddle every Sunday morning.
I see more when I'm on my bike than when I'm in a car. I usually take the roads and routes that I haven't explored. It is an amazing hobby that allows me to slow down, even when I'm going 20+ miles per hour. I stop to talk to people. For the next few hours that I'm on my bike, it's just me, nature, and my fellow biking enthusiasts. I am always amazed at how new many friends I make see when I'm riding. These friends I made, we call ourselves, "CRANK OF DAWN" because we like to ride early.
It's the same during my 8+ years at Cisco, where I get to see how many great people I work with. I am a Software Technology Manager and while we're all moving fast to innovate and to change the world, when we take a moment to slow down, enjoy what we do, we get to see a little more, take a few unexplored paths, and just talk to each other. We also have time to give back together.
I learned about the Canary Foundation through Cisco's volunteer program. It is the non-profit organization dedicated solely to the funding, discovery and development of tests for early cancer detection. This photo of me is during a 50-mile ride for the Canary Challenge. I like that Cisco encourages us to give back in ways that are personal to us, and in our local communities.
My father started one of the first early cancer detection centers back in the 1970s in Gujarat, India. When I ride for Canary, I feel that sense of connection between where I am now, at Cisco, and where I came from, all while contributing to a worthy cause.
May 10, 2016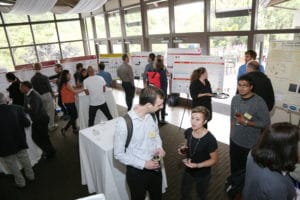 More than 100 members of Stanford University's scientific community met Tuesday, May 4 at the University Club in Palo Alto. Although their backgrounds were different, they had one major thing in common: cancer early detection. The event – the first ever Canary Summit – allowed researchers to share their work in that field, which ranged from innovative early detection using molecular imaging and cancer biomarkers, to the development of new technologies and medical devices for detecting cancer in its most early stages.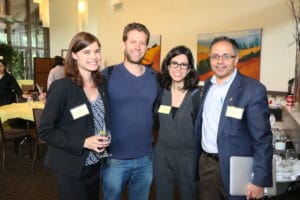 All those present were faculty and associates of the Canary Center at Stanford, a world-class facility dedicated to cancer early detection research programs. The Canary Foundation was instrumental in establishing the center and continues to fund it significantly.
At the Summit, the Canary Foundation awarded a $50,000 seed grant and committed to awarding $200,000 more in seed grants for attendees of the event to fund their research.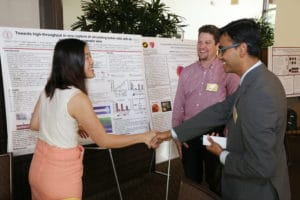 Scientists were encouraged to create posters that illustrated the focus and findings of their early detection research, and attendees voted on the best posters.
Top poster winners were:
First Place: Intravascular magnetic enrichment of circulating tumor cells. Jessie Ge (presenting author). Authors: Tianjia J. Ge, Amin Aalipour, Ophir Vermesh and Sanjiv S. Gambhir.

Second Place: NFIB is a novel metastasis-specific biomarker of small cell lung cancer. Jessika Baral (presenting author). Authors: Jessika Baral, Dian Yang and Julien Sage.

Third Place: Label-free Magnetophoretic Isolation of Circulating Tumor Cells and Clusters from Blood. Jaeyoung Yang (presenting author). Authors: Jaeyoung Yang, N. Gozde Durmus, Hojae Lee, Baris D. Ercal, Ozlem Ercal, Huiping Zhang, Christian Hoerner, Alice C. Fan, Juergen K. Willmann, Ronald W. Davis, Lars Steinmetz and Utkan Demirci.
For more photos of the Canary Summit, visit our album on Facebook.
April 28, 2016
Evan and Cindy Goldberg of Woodside, CA will match your gift to fund early cancer detection research up to $100,000 for Silicon Valley Gives on May 3. If you make a donation to Canary Foundation during this 24-hour online fundraising event, it will be matched by the Goldbergs' generous donation.
To contribute, visit Canary Foundation's Silicon Valley Gives fundraising page anytime on Tuesday, May 3.
Why the Goldbergs support early detection research 
There's no debate that early cancer detection saves lives. No one knows this better than the Goldbergs.
The couple has several family members who have had cancer, but thanks in large part to early diagnosis, all of them survived.
"They were helped by early detection, and it was a major factor in being cured. Even earlier detection may have made their treatments less invasive," Cindy says.
Longtime supporters of Canary Foundation, the Goldbergs believe that finding cancer earlier, with more accurate testing methods, is the first line of defense, and that reliable earlier detection will make new cancer therapies more effective.
"We are inspired by the incredible commitment of Don Listwin, Canary's founder, and Dr. Sanjiv Gambhir, chair of Radiology at Stanford University and director of the Canary Center at Stanford," shares Evan. "Their ideas are life-saving, cost-effective and long overdue."
Join Evan and Cindy in helping Canary Foundation find cancer early. It's about time.
April 6, 2016
The vice president's Cancer Moonshot initiative met with researchers at Fred Hutchinson Cancer Center to talk about cures for cancer.
Back in January at the president's State of the Union address, there was one announcement that stuck out for many of us. President Obama announced he was putting Vice President Joe Biden in charge of what is now called the Cancer Moonshot Task Force. It got its name because its mission – to eliminate cancer as we know it – is about as ambitious as putting a man on the moon used to be.
A significant early development occurred last month when Biden visited the Fred Hutchinson Cancer Center (the 'Hutch') in Seattle, one of the Canary Foundation's Centers for Excellence, as part of a listening tour. Biden's visit to the Hutch included a panel discussion with area researchers, care providers, policymakers and patients, as well as Fred Hutch President and Director Dr. Gary Gilliland.
The Canary Foundation's ties to the Hutch extend back to 2001 when Canary Founder Don Listwin discovered the work of epidemiologist Dr. Nicole Urban and a new field called biomarkers. He ended up funding some of her work and then later met Nobel Laureate Dr. Lee Hartwell, director of the center. Don's investment helped establish the core of a biomarker discovery and analysis program at the HUTCH, and it remains one of Canary's 'Centers of Excellence'.
Today, the Canary Research Teams at the Hutch collaborate closely with faculty at the Canary Center for Early Cancer Detection at Stanford University to achieve the same goal: saving lives by developing reliable methods for early cancer detection.
Learn more about the Canary Foundation's research centers, and check out this video about Biden's visit to the Hutch below. (Video by Bo Jungmayer & Robert Hood / Fred Hutch News Service)
November 13, 2015

Black Friday. Cyber Monday. What do these shopping events have to do with giving thanks?
Traditionally, Thanksgiving has been a time for reflection; a time to refocus on what it means to be thankful. #GivingTuesday was the answer to the question: How do we get back to the root of what it means to give thanks.
Now in its fourth year, #GivingTuesday is a collaborative, social media inspired day of giving, fueled by those who want to make a difference. Nonprofits have the opportunity to tap into a network of social activists and promote a variety of local and national causes.
So where does the Canary Foundation factor in?
For us, #GivingTuesday is more than just giving back. #GivingTuesday is a time for us to reflect and remember those who have struggled with cancer. #GivingTuesday is an opportunity to thank our scientists who constantly push themselves to find innovative methods of detecting cancer at its earliest stage. #GivingTuesday is a moment to pause and think about all the work that the Canary Foundation has been able to achieve over the past 10 years and to be thankful that we have the ability to continue achieving the improbable.
On this #GivingTuesday, we thank you for your belief in our mission and ask that keep us in mind as you make your year-end decisions about giving.