Blog
It Takes Two (Wheels) to Tango
July 15, 2015
The Canary Foundation visits dozens of cycling events around the Bay Area yearlong. We're hard to miss with our big yellow tent, eye-catching posters, and stylish staff (What can I say? We look good in polos!). On Sunday, May 3rd, our big yellow tent was stationed at the 1st annual Silicon Valley Bike Festival at History Park in San Jose, CA. It was a glorious day filled with bikes, entertainment, vendors, and most importantly, awesome people! As the crowds pedaled their way around the various booths and vendors, one woman in particular found the Canary Foundation's booth to be an awe-inspiring kick-starter of cycling passion.
On this sunny afternoon in San Jose, the Canary Team got to meet Amanda Lowrey. It turns out that Amanda didn't own a bike. Her husband was a hard-core cyclist, and her friends all liked to ride, but here she was, bike-less, at an all-day festival solely promoting the greatness of two-wheeled bipedal locomotion.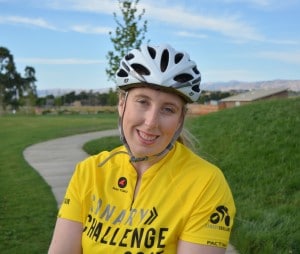 Things were about to change for her, however. Amanda spotted our yellow tent with two stylishly polo'd Canary employees under it, and wondered what the heck our spiel was all about. Canary Foundation employees, Greg and Lara, graciously got to speak with Amanda, telling her all about early detection cancer research, the Canary Center at Stanford, and last but not least: The Canary Challenge 2015. Amanda left our tent with a Canary bag full of sunscreen, a pamphlet, and a coupon code, but little did we realize, she also left our booth with a newfound passion and surge of cycling inspiration!
Later that night, Amanda reflected upon all the people in her life that had been affected by cancer: her father, her grandfather, and various numbers of friend's parents who had passed away from the disease. She thought to herself how absurd the lack of research in early detection and preventative action was, and how the structure of funding was disproportionality skewed. The thought rang so true in her mind that she decided to do what any sane person without a bicycle would do: sign up for a 75-mile cycling challenge!
The old proverb of "crawling before you walk" decided to defenestrate itself altogether; Amanda was now team captain for an activity she had done less than a handful of times. This new cycling venture was not approached on a blind curve, however. Checking out Amanda's background would show she was one to reckon with in lower body strength. Amanda started dancing at the age of 6, and by college, she had mastered ballet, modern jazz, swing, afro-Cuban modern, and salsa. Currently, she dances with a company called Salsamania based out of Oakland, CA. Saying she knows how to move her feet well would be the understatement of the century, which brings us right back to the main attraction: the bike.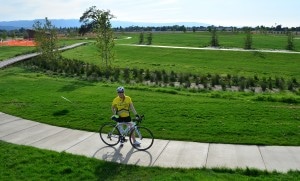 Amanda went to her local bike shop and purchased herself her first road bike and clipless pedals soon after signing herself up for the Canary Challenge. Her first ride on the trail went without a hitch, and at a respectable 25 miles, she was showing her new bike how to tango! Her next few rides, however, were more trial by fire.
In her honest words, Amanda didn't know what gears were, nonetheless how or when to shift them. She had to learn the proper mechanics the hard way up Mt. Eden when she toppled over, stuck in the highest gear. The good news was that she didn't make that mistake twice! Since that minor hiccup, Amanda has been enjoying the time spent with her husband, and her avid cycling friends, all the while training and raising money for a great cause in the process. On June 13th, Amanda joined us on our Captain's Appreciation Ride, where we went for a total of 30 miles from the Canary Center, up Mt Eden, and back. Amanda felt completely comfortable at our pace while she tackled Mt. Eden once more, this time shifting gracefully without a single tumble.
Two months out from the Canary Challenge 2015, and Amanda is making some serious headway in her training log. In just a few weeks Amanda has gone from newbie to weekend warrior, putting in 30-mile rides or more, every weekend with her team. Amanda plans on upping her game week by week to get her fully in shape for those hilly climbs on the 75-mile course. At her pace, she should have nothing to worry about! On the fundraising side of things, Amanda has passed the minimum donation, and is almost halfway to her ultimate goal of $1000. She has even branched off and started helping her teammates out with networking and donations to make sure that everyone is on track. In just a few months, Amanda has truly earned her stripes as Team Captain, as well as earned her badge as a hard-core cyclist.
Amanda's story goes to show that even the most novice participants can accomplish wonders with a determined mindset. As a non-profit working on innovating early detection diagnostics for 10 years, we here at the Canary Foundation can truly relate to Amanda's spirit. Canary knows there is a finish line in sight, but until we get there, we will just have to enjoy seeing Amanda cross hers on September 26th. From all of us here at the Canary Foundation, keep at it, Amanda!