Blog
February 3, 2019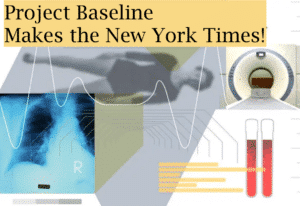 What if we could view changes in the body earlier than early to warn of possible disease? That is the aim of Project Baseline, to map human health. The New York Times published "Project Baseline Aims to Ward Off Illness Before We Get Sick" by Anahad O'Connor (Oct 2018).  The study is recruiting 10,000 adults. And each will be examined and followed for at least four years. So the goal is to discover the earliest warning signs of cancer, heart disease and other killers. Participants, the first of whom was enrolled in 2017, are called Baseline Explorers.
Project Baseline is the result of conversations in 2013, led by Google X's Andrew Conrad. He consulted with Dr. Sam Gambhir, MD, chair of Radiology at Stanford University and director of the Canary Center for Cancer Early Detection. And also with Robert M. Califf, MD, professor of Cardiology in the School of Medicine, Duke University.
Conrad (now CEO of Verily, a spin out of Google X) was interested in exploring with these two notable healthcare thought leaders, one in cancer and the other in cardiology, about how to create what has become a landmark study. Both had deep experience in working with large patient cohorts and focus on early detection of disease. The project has formed teams across the country.
Seeking to create a baseline of health
Traditional trials focus on those who have a disease. So Project Baseline, as the name implies, mainly enrolls healthy individuals gathering enormous amounts of information. Baseline equips enrollees with wearable technology from Verily that tracks sleep patterns, heart rhythms and physical activity. The team is developing tools and technologies to collect, organize, analyze and curate the data.
And investigators are determining the best ways to share data with participants that is helpful to them. They are looking at how they can engage with their medical professionals.
Canary Foundation and the Canary Center at Stanford for Cancer Early Detection
Dr. Gambhir has served as Canary Foundation's scientific director for more than a decade. He led the development of the Canary Center at Stanford for Cancer Early Detection.  The Canary Center is a partnership forged in 2008 between Stanford University and Canary Foundation under the leadership of Don Listwin, based on the foundation's mission. And interesting to know,  Canary Center is the first program Stanford has focused entirely on cancer early detection.
January 16, 2019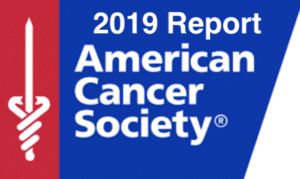 The new American Cancer Society report shows us that cancer deaths have dropped  by 27% since their peak in 1991. The decrease is attributed to early detection, better treatments and a reduction in smoking rates. The ACS report also points to a socio-economic disparity in the numbers, based on broad county and area reports collected by Surveillance, Epidemiology, and End Results (SEER – a National Cancer Institute source of epidemiologic information on the incidence and survival rates of cancer in the United States, where access to education and healthcare remains a problem. Additionally, lower incidence has been slower in cancers such as lung and prostate. Also, rates of new cases rose for pancreatic and other cancers. While the overall decline in rates is great news, we must keep up the momentum to create early detection tests to save lives as cancer remains the second cause of death in the United States (22% in 2016), and a major health issue worldwide.
The report states that in 2019, 1,762,450 new cancer cases and 606,880 cancer deaths are projected to occur in the United States. From the report: "…the Lifetime probability of being diagnosed with invasive cancer is 39.3 % for men and 37.7% for women. Prostate, lung and colorectal cancers (CRCs) account for 42% of all cases in men, with prostate cancer alone accounting for nearly 1 in 5 new diagnoses. For women, the 3 most common cancers are breast, lung, and colorectum, which collectively represent one-half of all new diagnoses; breast cancer alone accounts for 30% of all new cancer diagnoses in women. The reasons for the excess overall risk in men are not fully understood, but partly reflect differences in environmental exposures, endogenous hormones, and probably complex interactions between these influences."
Canary Foundation has been on the forefront of stimulating the field of cancer early detection globally by demonstrating cancer early detection tests as well as hosting scientific symposiums, mentoring researchers choosing the early detection path, and forging important national and international partnerships. To address access problems, Canary's investments have focused, when possible, on cost-effective tests as a path to bridging the socio-economic disparities.  Examples can be found in are our funded studies in enhance ultrasound using microbubbles, where ultrasound is found in doctor's offices worldwide, representing an imaging modality in development useful for multiple cancers that is low-cost, non- invasive and with the additional benefit of not using radiation.
December 24, 2018
Listwin was one of only three recipients selected in 2018 to receive the highest honor bestowed by the Stanford University School of Medicine, the Dean's Medal, which is presented to individuals who have significantly advanced the mission of Stanford Medicine.
Living through his mother's death from ovarian cancer left an indelible mark on Listwin and inspired him to work toward progress in early cancer detection. Listwin's role in helping to create today's global internet infrastructure through multibillion-dollar technology investing and management, including a decade at Cisco Systems, enabled him to step back from his operating roles to build the Canary Foundation.
Today, 15 years later, the Canary Foundation has grown from a startup nonprofit to a leader in the development of early cancer detection programs, including the Canary Center at Stanford and many others in the United States and abroad. The Canary Foundation is the only nonprofit exclusively dedicated to research in the field of early detection of cancer. The Dean's Medal honors Listwin for his service in the scientific and philanthropic communities that have advanced precision health.
"My thanks to Dean Minor and the entire School of Medicine organization," Listwin said. "Over the past decade, a theme of partnership has emerged in my pursuits in the medical field, and none has been stronger than at Stanford. Whether working with Dr. Sam Gambhir to build the first comprehensive early cancer detection center or launching a modest vision clinic in Belize with Dr. Caroline Fisher, there has always been support from the School of Medicine. My current pursuit in the field of stroke also found it roots at Stanford. It is a privilege to be able to engage in a spectrum of work in the field of medicine with the best in the world to help solve these critical problems."
The other recipients are Carla Shatz, PhD, the Sapp Family Provostial Professor, the David Starr Jordan Director of Stanford Bio-X and a professor of biology and of neurobiology; and Ron Johnson, founder and CEO of Enjoy, a company that hand-delivers technology products and helps customers set them up.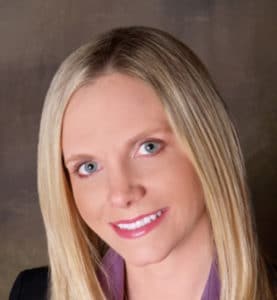 Christina Curtis, PhD, assistant professor of medicine and genetics and an associate member of the Canary Center at Stanford for Cancer Early Detection, was awarded the Pioneer Award in October from the National Institutes of Health. The award provides up to $3.5 million, dispensed over five years, to investigators at all career levels to pursue new research directions and develop groundbreaking, high-impact approaches to a broad area of biomedical or behavioral science.
Curtis plans to use her award to study how human tumors develop and to predict their progression. Her research focuses on understanding cancer systems biology, or the complex way in which many aspects of biology interact in healthy and diseased states. Akin to weather forecasting, the goal is to ultimately allow clinicians to anticipate how a tumor will behave over time, as well as to steer its course and tailor treatment options.
"Characterizing how a patient's tumor changes over time, adapts to therapy and sometimes spreads to other tissues is challenging since this process often cannot be directly measured," Curtis said. "Yet, learning cancer's evolutionary rulebook will give us clues about a patient's prognosis and is a necessary step toward the development of predictive models."
To overcome these challenges, Curtis has developed powerful computational and statistical techniques to infer an evolutionary history of tumors by analyzing the patterns of mutations present in their genomes and comparing these with virtual tumors simulated under different scenarios. She is also working to measure tumor adaptation during development and tumor progression in real time by leveraging new methods to trace cell lineages.
August 6, 2018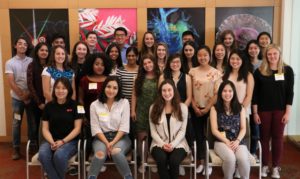 Today we want to take the time to introduce you to the Canary Center's Canary CREST internship program. The Canary CREST program pairs outstanding undergraduate students with a faculty member at the Canary Center at Stanford who then goes on to mentor them over the course of the summer. Interns work on their own personal research project with the guidance of their mentor and then present their work at the end of a summer in a poster competition held at the Canary Center at Stanford for Cancer Early Detection.
Over 200 undergraduates applied to the program, of which 27 outstanding applicants were accepted. Students come from universities located all over the country, with schools such as Yale, Stanford, Rice and an assortment of UC schools represented. This year's class of interns are evenly divided between rising sophomores, juniors and seniors.
In addition to conducting research, the interns get the opportunity to participate in weekly classroom sessions where they learn about current research in the field of cancer early detection. They also get to participate in workshops where they hone their communication skills, are taught how to critically evaluate research, and learn about research ethics. Interns also have the opportunity to attend seminars on the Stanford campus where they get to hear from industry professionals who work for a range of companies from startups to large corporations. Interns are also given the chance to visit companies such as Verily, Google's life sciences division.
July 30, 2018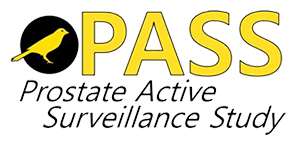 Canary Foundation has helped launch a new website devoted to PASS (Prostate Active Surveillance Study), our research study for men who have chosen active surveillance as a management plan for their prostate cancer.
The website includes the PASS Risk Calculator, a new tool designed to estimate the likelihood that a participant's prostate cancer will become more aggressive and require treatment.
July 11, 2018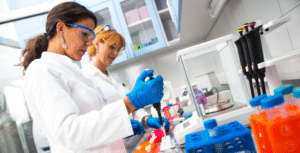 In an effort to further the understanding of early-stage ovarian cancer and find potential ways to detect and treat it, Canary is collaborating with the BRCA Foundation on a new ovarian cancer initiative.
This initiative is being lead by Ronny Drapkin, MD, PhD, Director of the Penn Ovarian Research Center and Director of Gynecological Cancer Research at the Basser Center for BRCA at the University of Pennsylvania, and Chuck Drescher, MD, a gynecological oncologist and research scientist at the Fred Hutchinson Cancer Research Center and Director of Gynecological Research at the Swedish Medical Center in Seattle.
Why Now?
While there have been advances in the treatment of ovarian cancer, the same can't be said for the development of accurate methods for detecting ovarian cancer early. As a result, most cases are diagnosed once the disease has spread beyond the ovaries to other organs.
"The most common clinical tools for diagnosing ovarian cancer, CA-125 and TV sonography, are based on technologies that are more than 25 years old," Drescher says. "We must do better."
Fortunately, recent scientific developments are reorienting research toward early detection by shedding light not only on how ovarian cancer forms in the body, but where it forms. It is now known, for example, that a substantial number of cases traditionally referred to as ovarian cancer don't originate in the ovaries at all. They begin in the fallopian tubes, the structure immediately adjacent to the ovary.
"There's been tremendous progress in our understanding of ovarian cancer in the last 5 to 10 years, and it is that progress that is serving as the basis for this new Canary initiative," Drapkin says.
Watch the video below to learn more about these new developments in ovarian cancer.
About the initiative
"Our plan is to put together a multi-disciplinary team of 20 to 30 preeminent ovarian cancer research scientists," explains Drescher, "and provide financial resources and access to the critical specimens, samples and patients that are necessary to do the types of research we are planning."

In order to accomplish this, Drescher, Drapkin and other co-leaders are putting together an advisory committee that will meet for the first time this fall. The group has several goals it hopes to achieve within the next year.

The first is to identify four or five clinical centers nationwide that are ready to participate in the program. These centers will be selected based on their expertise in ovarian early detection research, their ability to reach out to patients at high risk, and their ability to contribute to the development of next generation early detection tests.

Another goal includes establishing a "bio bank" that will include tissue, blood and other samples from women with very rare, very early forms of ovarian cancer that could be used in future studies.

"It is our vision to create a self-sustaining network of talented clinicians and researchers with access to critical clinical samples and patients and the infrastructure to do collaborative research," Drescher says. "We believe it is the best path forward to getting new tests to women and saving lives from ovarian cancer."
April 12, 2018
Canary Foundation's new partnership with the University of Calgary in Canada took shape recently with the announcement of four early cancer detection seed grants.
The seed grants are funded by Canary Foundation and the Charbonneau Cancer Institute at the University of Calgary. Recipients of the grants come from across the University of Calgary in the Cumming School of Medicine, Schulich School of Engineering and Faculty of Science.
The work of the recipients will focus on early detection of bladder, breast, colorectal and prostate cancer.
February 15, 2018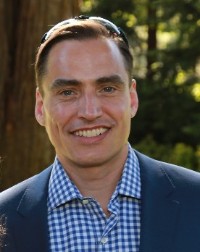 Juergen Willmann, MD, a professor of radiology at Stanford and a member of the Canary Foundation pancreatic team, died Jan. 8 in a car accident in Palo Alto.
Willmann was known for developing an imaging tool called targeted contrast microbubbles that, in combination with ultrasound, could be used to detect early tumors and target the delivery of drugs. Over the course of a decade, his lab at Stanford advanced the microbubble work from testing in animals all the way to the first clinical imaging trials in humans.
Here, some of Willmann's closest colleagues share their feelings about his work, passion and the impact he had on the field of cancer early detection.
"I have been working closely with Juergen for more than a decade on the early detection of pancreatic cancer. We first met at a Canary Foundation conference at Stanford, where I had been asked to lead the Pancreas Cancer Early Detection Team. Juergen was just starting his career in radiology and had a strong background in engineering and cancer science. I had been working on biomarkers of pancreatic cancer using proteomic technology. We realized we could create an early detection test using microbubble technology and endoscopic ultrasound or abdominal ultrasound, if we could create a microbubble target that would be unique to pancreatic cancer and pre-cancer vasculature. … My lab spent the next 5 years finding and validating the target. … Together, with Juergen's lab we were able to document the target was present in human tissue and then Juergen was able to demonstrate the feasibility of using microbubbles to detect very small pancreatic cancers in mouse models. After this decade of work, our next efforts were to move this into the clinical realm, with Juergen taking the lead on this part of the endeavor. Juergen was passionate about pancreatic cancer and early detection. He was a brilliant scientist, dedicated, and innovative.  He will be deeply missed not only by his colleagues, but by the pancreatic cancer community as a whole.  Ultimately, I hope that his collaborative work will remain a foundation for continued research in earlier detection of pancreatic cancer."

Teri Brentnall, M.D.
Professor of Medicine, University of Washington
Pancreatic Team Leader, Canary Foundation

"Juergen was committed to helping advance the field of early cancer diagnostics. His work on using ultrasound imaging with targeted microbubbles will continue to have an impact for many years to come. His passion and optimism will be sorely missed. I will miss him dearly but know his contributions to biomedical science will live on."

Sanjiv Sam Gambhir, M.D., Ph.D.
Chair, Department of Radiology
Director, Canary Center at Stanford for Cancer Early Detection
Stanford University School of Medicine

"A year ago I received an unexpected phone call from Dr. Juergen Willmann asking me to work with his team at the Canary Center at Stanford to make medical ultrasound more sensitive for early detection of cancer. Working closely with Juergen to adapt technologies Draper had originally developed for finding tiny hidden features in satellite images to instead seek out microscopic bubbles within cancer tumors turned out to be one of the best experiences I have ever had. His vision for enabling early cancer detection without using radiation, and his passion for collaborating with engineers like myself to pull it off, provided a sense of excitement and joy that inspired, and will continue to inspire, many of us to follow his lead until these technologies are used to help patients every day."

Andrew A. Berlin, Ph.D.
Distinguished Member of the Technical Staff
Draper
Canary Foundation was ahead of the cancer early detection wave when it started in 2004. Since then, academic institutions, such as the University of Cambridge in the UK and the University of Calgary in Canada, have looked to Canary for advice as they build out their own cancer early detection programs.
This year, one such collaboration is taking shape in dynamic ways. Canary's partnership with the University of Cambridge has resulted in four promising studies that partner researchers from Cambridge with researchers from Stanford. These projects, jointly funded by Canary Foundation and the Cancer Research UK Cambridge Centre, will explore innovative ways to detect prostate, lung, esophageal and renal cancers at an early stage.
In order to receive seed grants for these projects, applications had to include faculty at both Stanford and Cambridge. By fostering this transatlantic collaboration, Canary hopes to bring outstanding academic and clinical researchers from the US and UK together to tackle some of the most challenging questions in detecting cancer sooner.
The awards were announced at Cambridge's third annual early detection symposium on January 15. You can read more about these collaborations below or by watching the video.
"A multi-modal approach to discover novel blood-based biomarkers for early detection of poor prognosis prostate cancer"

Tanya Stoyanova, an assistant professor of radiology at the Canary Center, is partnering with Vincent Gnanpragasam, an urologist at Cambridge University Hospitals, to identify different types of tumors in men with prostate cancer. The goal is to distinguish between aggressive tumors that would require immediate treatment, and slow-growing tumors that may not need treatment immediately but could be monitored closely so that any changes in the tumor can be picked up and acted upon. Their project will use data from a number of sources including tumor DNA found circulating in the blood, protein molecules found in cancer cells, and MRI imaging of the tumor.

"Early cancer detection through transcriptomic analysis of host immune cells"

Tom Soh, a professor of radiology at the Canary Center, is exploring new ways to detect early-stage lung cancer through his partnership with Robert Rintoul, a thoracic consultant at Cambridge University Hospitals. The pair is studying the immune cells in blood samples to see if there are particular signals that could be used to identify lung cancer early.

"Levitating a sponge for the early detection of Esophageal Adenocarcinoma"

 Utkan Demirci, a professor of radiology at the Canary Center, is working with Rebecca Fitzgerald, Cambridge's early detection program co-lead, to detect early signs of esophageal cancer. They will use a new nanotechnology developed by Demirci that separates different types of cells using a magnetic field. The technology will be applied to the mixture of cells collected from patients that are given a Cytosponge test developed by Fitzgerald that can diagnose Barrett's esophagus – a common condition that, in some cases, develops into esophageal cancer.

 "Early detection of renal cell carcinoma using DNA methylation markers in urine"

Olivier Gevaert, an assistant professor of medicine and of biomedical data science at Stanford, and John Leppert, an associate professor of urology at Stanford, are teaming up with Charlie Massie, a group leader in Cambridge's early detection program. They will study whether it is possible to detect the early stages of a type of kidney cancer (Renal Cell Carcinoma) using biomarkers found in urine. Their research will look at specific signals in the DNA cells called methylation.