Blog
Archive for 2019
March 2, 2019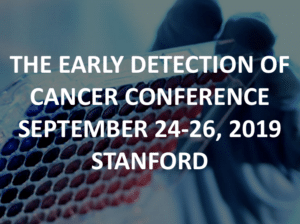 Many of you know, Canary Foundation believes in collaborations, including partnerships we have fostered on a global level. So this is to announce that registration is open for this second annual conference, a next generation outgrowth of our science symposium, led by our partners. The location is Stanford University.
Looking back to 2005, Canary Foundation held the first symposium fully dedicated to cancer early detection. Long before the term became common. What did we want to achieve? Our goal was to catalyze the field and bring early detection to the foreground. Early detection saves lives! By 2017, we were attracting 200 scientists and experts.  Together, they ask important questions, have dynamic conversations and form innovative ideas.  Additionally, presenters offer information on promising projects.
In 2018, our international partners took on leading the conference. The Canary Center at Stanford, Cancer Research United Kingdom, and the Knight Cancer Institute at Oregon Health & Science University together held their first in 2017. They also agreed to rotate locations. So this year, in 2019, the Canary Center will host the conference at Stanford University.
The Canary Center at Stanford represents a partnership between Canary Foundation and Stanford University. You may know, we celebrated the opening in 2009 as the first research center in the world, entirely dedicated to cancer early detection. Cancer Research United Kingdom is the largest independent funder of cancer research globally. The Knight Cancer Institute at Oregon Health & Science University, is a leader in precision cancer medicine. To visit the conference site and register: Early Detection of Cancer Conference
February 3, 2019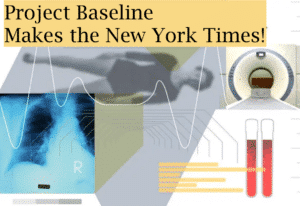 What if we could view changes in the body earlier than early to warn of possible disease? That is the aim of Project Baseline, to map human health. The New York Times published "Project Baseline Aims to Ward Off Illness Before We Get Sick" by Anahad O'Connor (Oct 2018).  The study is recruiting 10,000 adults. And each will be examined and followed for at least four years. So the goal is to discover the earliest warning signs of cancer, heart disease and other killers. Participants, the first of whom was enrolled in 2017, are called Baseline Explorers.
Project Baseline is the result of conversations in 2013, led by Google X's Andrew Conrad. He consulted with Dr. Sam Gambhir, MD, chair of Radiology at Stanford University and director of the Canary Center for Cancer Early Detection. And also with Robert M. Califf, MD, professor of Cardiology in the School of Medicine, Duke University.
Conrad (now CEO of Verily, a spin out of Google X) was interested in exploring with these two notable healthcare thought leaders, one in cancer and the other in cardiology, about how to create what has become a landmark study. Both had deep experience in working with large patient cohorts and focus on early detection of disease. The project has formed teams across the country.
Seeking to create a baseline of health
Traditional trials focus on those who have a disease. So Project Baseline, as the name implies, mainly enrolls healthy individuals gathering enormous amounts of information. Baseline equips enrollees with wearable technology from Verily that tracks sleep patterns, heart rhythms and physical activity. The team is developing tools and technologies to collect, organize, analyze and curate the data.
And investigators are determining the best ways to share data with participants that is helpful to them. They are looking at how they can engage with their medical professionals.
Canary Foundation and the Canary Center at Stanford for Cancer Early Detection
Dr. Gambhir has served as Canary Foundation's scientific director for more than a decade. He led the development of the Canary Center at Stanford for Cancer Early Detection.  The Canary Center is a partnership forged in 2008 between Stanford University and Canary Foundation under the leadership of Don Listwin, based on the foundation's mission. And interesting to know,  Canary Center is the first program Stanford has focused entirely on cancer early detection.
January 16, 2019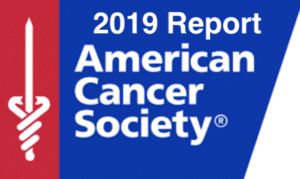 The new American Cancer Society report shows us that cancer deaths have dropped  by 27% since their peak in 1991. The decrease is attributed to early detection, better treatments and a reduction in smoking rates. The ACS report also points to a socio-economic disparity in the numbers, based on broad county and area reports collected by Surveillance, Epidemiology, and End Results (SEER – a National Cancer Institute source of epidemiologic information on the incidence and survival rates of cancer in the United States, where access to education and healthcare remains a problem. Additionally, lower incidence has been slower in cancers such as lung and prostate. Also, rates of new cases rose for pancreatic and other cancers. While the overall decline in rates is great news, we must keep up the momentum to create early detection tests to save lives as cancer remains the second cause of death in the United States (22% in 2016), and a major health issue worldwide.
The report states that in 2019, 1,762,450 new cancer cases and 606,880 cancer deaths are projected to occur in the United States. From the report: "…the Lifetime probability of being diagnosed with invasive cancer is 39.3 % for men and 37.7% for women. Prostate, lung and colorectal cancers (CRCs) account for 42% of all cases in men, with prostate cancer alone accounting for nearly 1 in 5 new diagnoses. For women, the 3 most common cancers are breast, lung, and colorectum, which collectively represent one-half of all new diagnoses; breast cancer alone accounts for 30% of all new cancer diagnoses in women. The reasons for the excess overall risk in men are not fully understood, but partly reflect differences in environmental exposures, endogenous hormones, and probably complex interactions between these influences."
Canary Foundation has been on the forefront of stimulating the field of cancer early detection globally by demonstrating cancer early detection tests as well as hosting scientific symposiums, mentoring researchers choosing the early detection path, and forging important national and international partnerships. To address access problems, Canary's investments have focused, when possible, on cost-effective tests as a path to bridging the socio-economic disparities.  Examples can be found in are our funded studies in enhance ultrasound using microbubbles, where ultrasound is found in doctor's offices worldwide, representing an imaging modality in development useful for multiple cancers that is low-cost, non- invasive and with the additional benefit of not using radiation.