Blog
Over $1 Million and Still Going Strong – Canary Challenge 2015
October 22, 2015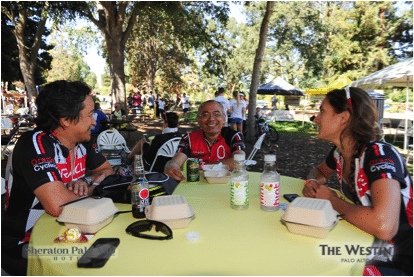 The 5th annual Canary Challenge cycling fundraiser was held on September 26th, 2015 out of HP Headquarters in Palo Alto. As of mid-October, participants in the Canary Challenge have raised $1,155,317 towards early cancer detection research. 100% of the proceeds from the cycling fundraiser will go towards the Canary Foundation and the research that it funds.
Since it's inaugural year in 2011, the Canary Challenge has seen tremendous growth in the number of participants, teams, and fundraising. In 2015, over 1,000 participants, 101 teams, and almost 200 volunteers came together to raise over $1 million for early cancer detection research. With each individual rider raising an average of over $1,000, more than double the $400 participation minimum, the passion that participants have for finding cancer at its earliest, must curable stage, is truly inspiring.
"The Canary Challenge is a great event because it offers the best cycling on the Peninsula with rest stops offering gourmet food and drinks, and challenging to easy routes for our incredible cyclists," says founder Don Listwin, who rode the new Founder's 50 Mile Route. "For our 10th anniversary year, we increased our goals and our riders passionately strove to achieve and have fun. "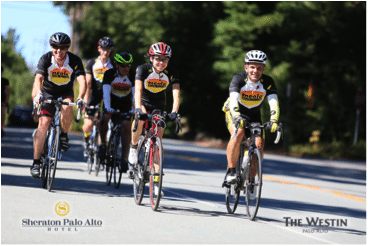 Special thanks and recognition to the businesses and individuals who donated their time and goods to making the post-ride Village a success! Pro riders included Eamon Lucas, Freddie Rodriquez, and Liza Rachetto. Corporate Team Sponsorships this year included, Agilent Technology, Avaya, Netsuite, VMware, SAP and Juniper Networks.
A last and final thank you to the Menlo Bike Club, who fearlessly led training rides to prepare riders of all levels for the Canary Challenge routes and provided countless opportunities to learn from experienced riders such as Menlo Bike Club Leader Hani Juha.
Individual Top Fundraisers:
Special recognition for Maren Deem – a 12-year old cycling-enthusiast, whose mother is currently battling breast cancer, single-handedly raised $33K for early cancer detection.
| | |
| --- | --- |
| Maren Deem | $33,502.00 |
| Pat Gelsinger | $32,651.00 |
| Julie Kaufman | $12,079.00 |
| Steve Ciesinski | $11,955.00 |
| Larry Fox | $11,211.00 |
| Frederick Chin | $11,075.00 |
| Andrew Valentine | $10,569.00 |
| Kevin Talbot | $9,400.00 |
| LeTessa Davis | $9,390.00 |
| Chip Krauskopf | $8,565.00 |
Top Teams:
| | |
| --- | --- |
| Canary Peeps | $80,200.00 |
| Dog Pack | $65,165.00 |
| VMware & Partners | $64,594 |
| Team "I Got This" | $61,409.00 |
| Milan's Team | $45,857.00 |
| Agilent Technologies | $38,621.00 |
| XRay Ninjas | $34,712.00 |
| RALLY | $34,169.00 |
| Team NetSuite | $27,116.00 |
| Team Aditazz | $26,355.00 |