Blog
Canary's International Collaboration – ACED
March 8, 2021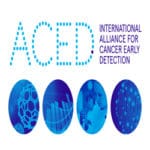 The International Alliance for Cancer Early Detection (ACED) joins researchers from the United States and the United Kingdom in a $70 million partnership. Founded in 2019, ACED is a partnership with the Canary Center at Stanford University, CRUK, the University of Cambridge, the Knight Cancer Institute at Oregon Health and Science University (OHSU), University College London and the University of Manchester. The following is one study chosen for it's innovative approach to early detection:
Stratifying Risk for Early Detection in Hereditary Breast and Ovarian cancer
Project Award, led by: Marc Tischkowitz, University of Cambridge; Allison Kurian, Canary Center at Stanford for Cancer Early Detection; and Gareth Evans, University of Manchester. Stanford Team: Allison Kurian, Alice Fan, James Ford
CanRisk is a cancer risk assessment tool which combines genetic, lifestyle, clinical and imaging data to calculate an individual risk estimate for women with high-risk mutations in BRCA1 and BRCA2. The ability to provide personalized cancer risk estimates will identify women at particularly high risk. Currently, the ranges of cancer risk estimates for women with hereditary mutations in breast cancer genes are wide and not personalized, so all women are given the same figures. Creating a customized approach can solve this problem.
By implementing personalized risk estimates, early detection strategies can be tailored for the individual, therefore identifying those at the highest risk. Once feasibility is assessed, women undergoing predictive testing for BRCA1, BRCA2, PALB2, ATM or CHEK2 in US and UK genetics centers will be randomized to conventional vs personalized risk estimate based on genetic/lifestyle/hormonal modifiers.