Blog
Don Listwin Award For Outstanding Contribution to Cancer Early Detection 2022 goes to: Sudhir Srivastava, Ph.D., MPH, MS
November 16, 2022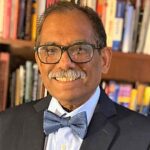 The Don Listwin Award for Outstanding Contribution to Cancer Early Detection recognizes a sustained contribution to, or singular achievement in, the cancer early detection field.
The 2022 Award goes to: Sudhir Srivastava, Ph.D., MPH, MS: Senior Scientific Officer and Chief of the Cancer Biomarkers Research Branch in the Division of Cancer Prevention, National Cancer Institute (NCI), National Institutes of Health (NIH).
He is well-known for having established a number of transformative programs on translational research on cancer screening, early detection, risk assessment and enabling technologies including artificial intelligence with a network of leading experts in medicine, science, computational biology that has advanced scientific discoveries and revolutionized diagnostics in cancer early detection.
In 2000, Dr. Srivastava developed and implemented a novel approach to collaborative clinical research on cancer biomarkers through the establishment of the Early Detection Research Network, a flagship program at the NCI that has begun translating biomarkers into clinical tests (> 8 FDA approved and > 19 CLIA certified) for early detection. This network has been a pioneer in applying innovative technologies in the validation of cancer biomarkers as well as in the development of a national informatics infrastructure to support the research.
He also developed a number of strategic programs that promotes the convergence of interdisciplinary approaches from physics, biology, chemistry, and engineering emphasizing seamless integration of these disciplines into innovations, team science and translation from the bench to the bedside. These include EDRN, the Alliance of Glycobiologists, the Liver Cancer Consortium, the Liquid Biology Consortium, the Pancreatic Cancer Early Detection Consortium, the Cancer Imaging and Biomarkers Program, and the PreCancer Atlas. His conceptualization and implementation of the EDRN informatics infrastructure, in collaboration with NASA's Jet Propulsion Laboratory, has become a model for similar collaboration established at the NIH. He is respected as an early adapter of emerging technologies, in particular, artificial intelligence initiatives he launched in 1994, before the science became omnipresence in the life sciences and a vital approach in today's world of enhancing human capabilities. He has successfully developed partnerships on shared interests with the National Institute of Standards and Technology, DOD's Center for Prostate Disease Research, DOE's Pacific Northwest National Laboratory, and the Jet Propulsion Laboratory. In addition, he has developed collaborations with international and non-profit foundations, such as Japan's Agency for Medical Development and Research, Cancer Research-UK, the China Cancer Institute/Chinese Academy of Medical Sciences, and U.S. organization such as Pancreatic Cancer Action Network, Lustgarten Foundation, and Kenner's Family Research Foundation.
In recognition of his leadership in cancer diagnostics, Dr. Srivastava was featured in Wired magazine in August 2003, and more recently, has been awarded a Distinguished Public Service Award (2016) by the American Pancreatology Association, a Distinguished Clinical and Translational Proteomics Award (2017) by HUPO International, and the Distinguished NCI Cancer Prevention Fellowship Program (CPFP) Alumni Award (2016).
* Excerpt taken from https://www.earlydetectionresearch.com/award/