Blog
Archive for 2014
July 23, 2014
By: Shannon Boselli, Canary Foundation Intern
As we begin to highlight outstanding Canary Challenge riders on our blog, we instantly knew a post would have to be about Hilary Valentine, our founder Don Listwin's wife. Hilary has been with the Canary Foundation from its start, acting as a lead participant in the Challenge and a lead motivator in Don's pursuit of cancer early detection. In addition to both of those roles, Hilary leads the Canary Peeps team—a group of riders/runners/walkers that include Hilary and Don's friends and their kids. The team has members doing each route of the Challenge according to their ability, although most moms and kids do the 5k. Last year the Canary Peeps team boasted 43 members and raised over $78,000. This year Hilary believes they will double in both size and fundraising efforts.
The Canary Peeps fundraise in a unique way that affords them much success. Each member sends out witty, clever emails asking for sponsorship. Hilary's friend Kristi sent out an email titled "Will You Support me on September 27th?" In it she described what the Canary Foundation does, what she has done for the Foundation, and what her goals are for her bike ride this year. Last year Kristi raised $5,000 and was one of the top 15 fundraisers at the Challenge. This year, she has provided incentives to her friends and family to donate to her cause. They are:
"If I hit my goal I will contribute $1,000.
The top donor will receive a digital copy of Kostas (her husband) in his 2014 Burning Man outfit.
If I exceed my goal I will wear Kostas' Burning Man 2014 outfit during the Canary Challenge ride. (see photo)"
Creative fundraising ideas like sending out fun emails and offering friends and family incentives to donate make fundraising both easy and enjoyable. The Canary Peeps team also asks each member to ask 3-5 new people to join the team or donate to their team. Both techniques have made the Canary Peeps team extremely successful and a great presence at the Canary Challenge village.
The Canary Peeps have also have lots of fun at the Canary Challenge. The kid's favorite part of the event is the bouncy castle, slide, face painting, and sugar shack (hint: bring your family!) Hilary and her friends' favorite part is the team camaraderie. Hilary said, "We come together, support and encourage each other. Team tee shirts are designed by one of our own. The team slogan is "Cruisin' with my Peeps." We have a team tent that creates team unity and a great place to hang out. We have a team cocktail but I am not sure you can mention that!"
The Canary Peeps motto is "we have no shame," and they definitely live out that motto and have found great success at the Challenge sans shame. Our team at the Foundation wants to thank Hilary and her team for all of their hard work and generous contributions to the Canary Foundation's cause. With supporters like these our efforts to detect cancer early through a simple blood test and imaging will be hopefully be rewarded soon.
July 1, 2014
By: Shannon Boselli, Canary Foundation Intern
Joan Deitchman, a Senior Software Engineer at Netflix, has raised over $6,000 for the Canary Center at Stanford through her 3,000-mile bicycle race called Race Across America. The race is done around the clock for almost 13 days and spans from California to Maryland. Only about 30 women and 300 men have completed the solo ride even though the race is in its 33rd year. Joan is riding in RAAM for the second time. 
Even though RAAM has no fundraising component, Joan has made a personal pledge to raise money for the Canary Center. She has already surpassed her goal of $5,000 and accredits the efforts to her family, friends, and fans. She heard about the Canary Foundation from cycling in the Silicon Valley and through the Vanderkittens, a pro cycling team. She believes that finding a simple blood test to detect cancer before it spreads to other organs is a great investment for future prevention.
To fundraise for RAAM Joan asks for donors to sponsor one of the 52 time stations where she stops. There she can recognize the donors on Social Media with photos at each station. This allows donors to be involved in the event even if they aren't physically present, and allows them to see how far Joan rides. Each sponsored time station helps remind her about all of the support she has received and pushes her to make it through the grueling 3,000 miles.
Joan recommends being persistent in fundraising for the Canary Challenge. Finding ways to engage donors and get them excited for the upcoming event allows them to feel more connected to your fundraising efforts. She advises sending out emails, advertising on Social Media accounts, or making your own fundraising page. That way donors can see the great work you've put in for the cause.
Thank you Joan for your amazing efforts. Your drive will surely inspire many other Canary riders to keep lofty goals and race hard in September!
Check out Joan's website here.
Check out Joan's Canary fundraising page here
June 25, 2014
Beeline Bikes, a mobile bicycle repair, has become the official mechanical support for the Canary Challenge. Beeline Bikes will provide the mechanical support in the Canary Challenge Village and will have mechanics at the Pulgas Water Temple rest stop on Canada Road. 
Beeline Bikes, a mobile repair business out of San Carlos, operates several trucks, which contain a full bike shop inside. Beeline Bikes is offering a special introductory rate for Canary Challenge riders.
Canary Challenge riders can use code "Canary2014" and get

$10 off a Full Tune-up (normally $79.99, plus parts

.)
If you have more than one bike for service, you can get the $67.99 multi-bike price, plus $10 off.
Beeline Bike's business model is simple: Bring the bike shop to the customer and take pride in servicing any and all bikes. Beeline Bikes Technicians are employee owners and are among the best bicycle mechanics around. Beeline Bikes maintains bicycles for individuals, neighborhoods, and corporations.For more information on Beeline Bikes, please visit www.BeelineBikes.com
April 30, 2014
The Canary Prostate Cancer team, under the leadership of Dr. Dan Lin (University of Washington) and Dr. Jesse McKenney (Cleveland Clinic), received notice that they are the winning team for the Department of Defense (DoD) Prostate Cancer Research Program's Biomarker Development Award. The award requested $2.5M over a 3-year period, to begin later this year. Competition for the award was intense, culminating in a panel interview of finalists in Washington, DC, with only one winning team selected.
The Canary team's Prostate Active Surveillance Study (PASS) was a critical resource for this award. PASS is a multi-center clinical trial that has enrolled over 1,000 men with early-stage prostate cancer who elect to have their cancer actively monitored, donating specimens as they are being followed for 5 years. PASS is addressing the overtreament problem in prostate cancer, in which the majority of men with low-risk prostate cancer receive treatment with associated side-effects, even when their cancer would not have been life-threatening if left untreated. PASS is aiding in developing the tools to tell the difference between aggressive and indolent (not aggressive) prostate cancer to guide treatment decisions.
The overall goal of the DoD grant is to validate biomarker panels for the prediction of prostate cancer aggressiveness and bring the biomarkers into clinical use in the near term. This will give patients and physicians better decision making tools which should reduce overtreatment and identify men who may benefit from early treatment. The grant will allow the Canary team to do independent research as part of collaborations with the companies that are developing the biomarkers and to integrate the results. The collaborating companies are Genomic Health Inc., OPKO Diagnostics, and Gen-Probe/Hologic.
March 18, 2014
The Canary Challenge has partnered with pro women's cycling team, Team Vanderkitten for the third year in a row. The Vanderkittens are sponsoring the Canary Challenge ride on September 27, 2014, which benefits the Canary Center at Stanford for Early Cancer Detection.
Team Vanderkitten is a professional women's cycling team that competes in major women's cycling events around the world.
The Vanderkittens kicked off this year's sponsorship of the Canary Challenge by holding an exclusive training ride, which met at the all-new Canary Center at Stanford For Early Cancer Detection in Palo Alto, California. The Canary Center is a state of the art research center that employs teams of scientists in the field of early cancer detection research.
Vanderkitten Team Director, Jono Coulter, "This is our 3rd year with the Canary Challenge. We're bringing riders from all over the world: Australia, New Zealand, and Canada, to come and ride this event. Early cancer detection is super important to this community and we want to bring a lot of riders out to take advantage of the wonderful riding in Northern California and raise money for the Canary Foundation."
The Vanderkittens, alongside Vanderkitten VIP riders, and Canary Challenge Team Captains, enjoyed a stunning ride that climbed through the hills of the Bay Area Peninsula and up the famous Kings Mountain climb which will be part of the course for the Canary Challenge on September 27, 2014.
Vanderkitten VIPs are ambassadors of the Vanderkitten brand and leading women in the outdoor lifestyle world. After the ride, the group enjoyed lunch, a tour of the Canary Center, and a presentation on early cancer detection research from Canary Foundation Executive Director, Ronica Sanders Smucker.
Canary Foundation is the world's first non-profit organization dedicated solely to the funding, discovery, and development of tests for early cancer detection. They are the host and beneficiary of the upcoming annual Canary Challenge, a fundraiser bike ride that starts and finishes from the HP headquarters in Palo Alto. In 2013, the Canary Challenge raised over $800,000 for early cancer detection research, achieved by over 800 participants.
The Canary Challenge in 2014 aims to raise $1.25 million with 1500 riders. The Canary Challenge is the premier single day cycling fundraiser in the San Francisco Bay Area, touting rest stops featuring gourmet food, full support, and a family-friendly after party at the finish line.
The Canary Challenge is on September 27, 2014 and features 5 routes, ranging from 5k to 100mi. To sign up, visit www.CanaryChallenge.com.
March 6, 2014
To implement new discoveries in the clinic, we are committed to developing novel micro- and nanoscale bioengineering and biomedical microfluidic technology platforms to enable clinical diagnostics and point-of-care tests. To achieve this goal, we have recently recruited Dr. Utkan Demirci from Harvard Medical School to lead our technology development efforts. Dr. Demirci's previous efforts have yielded a point-of-care microchip technology to detect ovarian cancer biomarkers (e.g., HE4) using a 10-minute microchip assay and a cell phone as the detector.
Dr. Demirci will continue to innovate around point-of-care diagnostics, microfluidics assays and the development of technology platforms at the convergence of engineering, biology and materials science. Dr. Demirci brings his 15-person lab from Harvard this spring.
Further details of his research can be found here.  The movie below, from BAMM Labs (Bio Acoustic Mems in Medicine) gives the general idea of his point-of-care diagnostic technology although it's for a different medical application.
February 4, 2014
In honor of World Cancer Day, we are officially opening registration for the Canary Challenge 2014. Register for the ride now for $25 until March 31.
World Cancer Day is a chance to raise our collective voices in the name of improving general knowledge around cancer and dismissing misconceptions about the disease. For Canary, we're emphasizing the need for more cancer early detection research, awareness, and advocacy. A great way to get involved is by participating in the Canary Challenge 2014.
This amazing one-day cycling event is about to get bigger and better than ever. The event will be hosted at HP's campus in Palo Alto on Hanover St. We're aiming high this year with a goal of raising $1.5 million, recruiting 150 teams and over 1,500 riders. This year's ride will benefit the Canary Center at Stanford, supporting the researchers, scientists and doctors who are dedicated to cancer early detection. Register now and be part of the pioneering edge of cancer early detection research!
January 29, 2014
The beginning of the year presents a cue to reflect on the successes of the previous year, and look forward to goals for the coming months. We're delighted to announce progress with our research that has tremendous implications for future innovations, as well as our ambitions for the Canary Challenge 2014.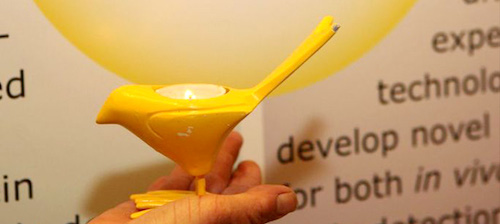 New technologies always evoke excitement and anticipation. Here at Canary, if a scientist wants to use a new technology to advance or improve the ways we detect cancer tumors early, we are all for it. Enhanced ultrasound using microbubble technology is one of these technologies.
This technology will change the way doctors view tumors. Microbubbles are miniature gas bubbles, mostly containing oxygen or air, which can be uniformly suspended in a liquid such as blood. Due to their size, they can pass through even the smallest of blood vessels and therefore are commonly used together with medical ultrasound imaging. As effective vehicles for highlighting blood in ultrasound images, Canary scientists use microbubbles as a contrast agent to view cancer tumors. Our clinical trials in Rome with women who have ovarian cancer have produced great results. Here in the US, we anticipate replicating microbubble technology for applications with breast cancer, prostate and pancreatic cancer.
We also value and actively seek out key partnerships, whether academic or industry. Soon we'll announce a partnership with Genomic Health Inc. in the area of prostate cancer. We're in talks with MD Anderson in Houston to help with coordinating a national multi-institutional lung cancer study.
We have great plans for our largest fundraising event, the Canary Challenge, which is about to get bigger and better than ever. Mark your calendar now for September 27, 2014. Register now for $25 until March 31. The event will be hosted at HP's campus in Palo Alto on Hanover St. We're aiming high this year with a goal of raising $1.5 million, recruiting 150 teams and over 1,500 riders. This year's ride will benefit the Canary Center at Stanford, supporting the researchers, scientists and doctors who are dedicated to cancer early detection. Come be a part of an amazing one-day cycling event!
We're pleased to announce that we will again be partnering with women's pro cycling team extraordinaire, the Vanderkittens, who will host monthly training rides for Canary Challenge riders. Hani Juha, a cyclist and great coach, of Menlo Bike Club will also offer weekly training rides, an annual training program, as well as monthly clinics. We invite anyone and everyone in the Canary community to take advantage of these tailored experiences to brush up on their skills in time for the event.
What are your hopes and dreams for cancer early detection research at Canary Foundation? Let us know in the comments below!