Blog
Archive for the 'Stanford' Category
April 13, 2021
The 2021 Precision Health and Integrated Diagnostics (PHIND) Center at Stanford held the virtual PHIND Symposium on March 23, 2021. The event showcased the exciting PHIND work that is going on campus-wide, featuring current PHIND investigators and Precision Health experts. Professor of Radiology Dr. Garry Gold gave an update on the PHIND center, reflecting upon former Radiology Chair Dr. Sanjiv Sam Gambhir's visionary leadership and the continuation of this work, now with Dr. Gold's direction, aimed at monitoring health to identify early transitions from health to disease.
Discussions included one with Dr. Joseph DeSimone, recently named recipient of the Sanjiv Sam Gambhir Professorship in Translational Medicine, who stated that although he is new to PHiND, his group has been thinking about precision delivery, using new devices such as microneedles to deliver treatments locally, rather than systemically throughout the body. Dr. Utkan Demirci, leading the Canary Center at Stanford, discussed his group's Exosome-Total-Isolation-Chip (ExoTIC) device for identification of exosome-based biomarkers for monitoring health from a variety of biological fluids.
Besides devices, like the one in the picture, there was a focus on data. What kinds of data are we capturing as the clinical enterprise has transformed through Covid and telehealth? Can we separate patients into cohorts with online and in person visits to optimize the clinical workflows? How can we access and mine data from non-identifiable electronic health records? Participants also discussed ways to ensure equity in access to these devices and data, as well as ways to ensure clinical trial participants are engaged in meaningful ways in monitoring their health.
The Precision Health and Integrated Diagnostics Center (PHIND) at Stanford is dedicated to longitudinal monitoring and improvement of overall human health on a lifelong basis. Stanford advancements in biology and technology are leading to the potential to understand disease risk, detect disease early and enable preventative interventions.
Click Here to watch the videos from the Symposium.
March 8, 2021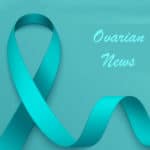 The Canary High Grade Serous Ovarian Cancer (HGSC) study is leveraging the expertise and resources of four institutions to study the microenvironmental factors that can lead fallopian tubes to develop this deadly type of ovarian cancer and thus provide a signal to alert for the presence of early disease. The Fred Hutchinson Cancer Research Center in Seattle, the University of Pennsylvania, the Van Andel Institute in Michigan, and the University of California San Francisco have built the infrastructure to share fallopian tube specimens, experimental and clinical data, and analytical teams.
The small pilot study goals are to ask whether it is possible to compare women carrying the BRCA mutations (who are at higher risk of developing ovarian cancer) compared to those who do not carry the mutation and determine whether it is possible to find a measurable difference in the microenvironment.
Based on their first results, the team is selecting a larger set of specimens, matched for clinical factors and BRCA mutation status, and will conduct RNA, DNA and methylome sequencing. The group is also comparing competing platforms for imaging the tissue expression in 3D so that differences along the length of the tube can be evaluated and tested for correlations with the genetic data.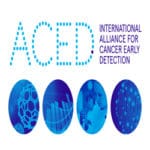 The International Alliance for Cancer Early Detection (ACED) joins researchers from the United States and the United Kingdom in a $70 million partnership. Founded in 2019, ACED is a partnership with the Canary Center at Stanford University, CRUK, the University of Cambridge, the Knight Cancer Institute at Oregon Health and Science University (OHSU), University College London and the University of Manchester. The following is one study chosen for it's innovative approach to early detection:
Stratifying Risk for Early Detection in Hereditary Breast and Ovarian cancer
Project Award, led by: Marc Tischkowitz, University of Cambridge; Allison Kurian, Canary Center at Stanford for Cancer Early Detection; and Gareth Evans, University of Manchester. Stanford Team: Allison Kurian, Alice Fan, James Ford
CanRisk is a cancer risk assessment tool which combines genetic, lifestyle, clinical and imaging data to calculate an individual risk estimate for women with high-risk mutations in BRCA1 and BRCA2. The ability to provide personalized cancer risk estimates will identify women at particularly high risk. Currently, the ranges of cancer risk estimates for women with hereditary mutations in breast cancer genes are wide and not personalized, so all women are given the same figures. Creating a customized approach can solve this problem.
By implementing personalized risk estimates, early detection strategies can be tailored for the individual, therefore identifying those at the highest risk. Once feasibility is assessed, women undergoing predictive testing for BRCA1, BRCA2, PALB2, ATM or CHEK2 in US and UK genetics centers will be randomized to conventional vs personalized risk estimate based on genetic/lifestyle/hormonal modifiers.
November 22, 2020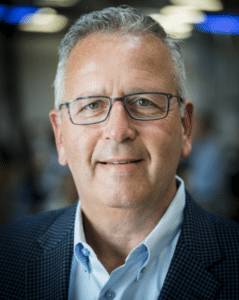 Dr. Joseph DeSimone
We welcome Professor Joseph M. DeSimone, PhD. in the position of the Sanjiv Sam Gambhir Professor in Translational Medicine. We are fortunate to have such creative and capable leadership as our work together in cancer early detection continues.
From the Stanford Press Release: The Stanford Department of Radiology is proud to announce Professor Joseph M. DeSimone as the inaugural Sanjiv Sam Gambhir Professor in Translational Medicine. A shining example of achievement, Joe has been described as "an igniter of innovation". He has received international recognition as a scientist, inventor, and entrepreneur, earning major accolades including the U.S. Presidential Green Chemistry Challenge Award, the 2017 Heinz Award, and the Lemelson-MIT Prize. He is one of only 25 individuals elected to all three U.S. National Academies—the National Academy of Sciences, Medicine, and Engineering. In 2016, President Obama presented him with the National Medal of Technology and Innovation, the highest honor in the U.S. for achievement and leadership in advancing technological progress. Read more here.
Joe and his lab have made significant scientific breakthroughs in science and medicine including next-generation approaches to cancer treatment and diagnosis, implantable drug delivery devices, green chemistry, and most recently in 3D printing technology for medical devices tailored to an individual patient's needs. A dedicated educator and strong advocate for bringing a broader diversity of perspectives into research, he has mentored over 80 students through PhD completion at Univ. of North Carolina and North Carolina State Univ. (his former 30-year career), half of whom were women and members of underrepresented groups in STEM.
As an avid researcher and innovator, Joe has authored over 370 scientific publications with over 42,000 citations to his work, and is a named inventor on over 200 issued patents. Additionally, he brings a unique ability to transfer novel solutions from his lab to the world through the companies he co-founded.
July 21, 2020
From Stanford University News: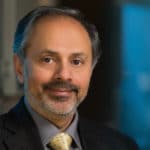 Sanjiv Sam Gambhir, MD, PhD, professor and chair of radiology at the Stanford School of Medicine and an internationally recognized pioneer in molecular imaging, died July 18 of cancer. He was 57.  He was a global leader in advancing techniques for molecular imaging and early cancer detection.
Below is the message that Lloyd Minor, MD, dean of the School of Medicine, shared with the community on July 18.
Dear Colleagues,It is with a heavy heart that I write to inform you that Sanjiv Sam Gambhir, MD, PhD, professor and chair of the Department of Radiology at Stanford University School of Medicine, passed away this morning.
Words cannot express what an immense loss this is personally, for our Stanford community, and for the field of medicine. 
Sam was an uncommonly talented physician-scientist. As the Virginia and D.K. Ludwig Professor in Cancer Research and director of the Molecular Imaging Program at Stanford (MIPS), Sam earned international recognition as a pioneer of molecular imaging. He authored nearly 700 peer-reviewed articles, several books, filed for 40 patents, and his lab's work has been featured on dozens of journal covers. But Sam was most proud to see many of his discoveries translate to the clinic, which today benefit patients around the globe. 
To many of us, however, Sam was much more: a dear friend. His kindness, sense of humor, and graceful way with people were among his defining qualities and will be sorely missed by those who knew him. 
I first met Sam in 2012 when he was serving as co-chair of the search committee that selected me to be Dean. It was then that I immediately understood why he is so revered at Stanford Medicine and across the university. As a leader and as a person, Sam exemplified through his life the best of Stanford and the highest values to which we aspire. 
Many of us witnessed Sam's courage and tenacity during the 21 months that he and his wife Aruna fought for the life of their son Milan, who passed away in 2015 at the age of sixteen. Sam understood the fragility of human health and worked every day to apply his genius to research focused on diagnosing disease in its earliest and most treatable stages.
Sam was an advocate for precision health long before it was popularized. In recent years, he dedicated his life to the early detection of cancer as director of the Canary Center for Cancer Early Detection at Stanford. In 2016, he established the Precision Health and Integrated Diagnostics (PHIND) Center to help create the future he envisioned for health care—a world in which technologies continuously monitor our health to keep us healthy.
Throughout his prolific career, he mentored more than 150 postdoctoral fellows and graduate students. These leaders, representing more than ten disciplines, will carry on his legacy.
I hope that we may come together as a community, virtually and in spirit, to support each other during this difficult time and to share our memories of Sam—a scientific visionary, a trusted mentor, a beloved colleague and friend.
In lieu of flowers, the Gambhir family prefers donations to the PHIND Center, the Canary Center for Cancer Early Detection at Stanford, the Ben and Catherine Ivy Foundation, or The Sanjiv Sam Gambhir Professorship in Translational Medicine.
Sincerely,
Lloyd Minor
July 6, 2020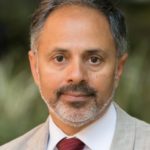 From the Stanford press release:
Sanjiv Sam Gambhir, MD, PhD, the Virginia and D.K. Ludwig Professor for Clinical Investigation in Cancer Research and Chair of the Department of Radiology, has received the 2020 European Society of Molecular Imaging (ESMI) annual award.
"The Committee recognizes Sam as one of the founding fathers of the field in which we all have the privilege to work. He has been a pioneer and visionary, a mentor and inspiration – thanks for your continuous and passionate dedication for imaging science."
The ESMI Award is given to an excellent scientist for her/his outstanding contribution to the interdisciplinary research in Imaging Science. The nominee must have contributed significantly to the knowledge in this field.
Congratulations, Dr. Gambhir!
October 9, 2019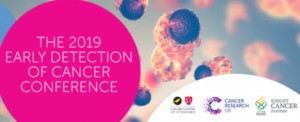 Canary Center at Stanford, Cancer Research UK, and the OHSU Knight Cancer Institute, hosted the Early Detection of Cancer Conference September 24 – 26 at the Frances C. Arrillaga Alumni Center, Stanford, California. Approximately 370 attendees, from 120 institutions, and 11 countries outside of the USA (including Australia, Canada, China, Finland, France, Great Britain, India, Netherlands, South Korea, Switzerland, and Ukraine) brought forth their latest findings and ideas. The annual Conference brings together experts in early detection from multiple disciplines to share ground breaking research and progress in the field.
The conference is part of a long-term commitment to invest in early detection research, to understand the biology behind early stage cancers, find new detection and screening methods, and enhance uptake and accuracy of screening.
The talks ventured widely, from finding ways to extract more information from cell-free DNA in blood, to building cohorts of people at high risk of cancer to prospectively study the emergence of disease, to the role of the tumor micro-environment and the immune system in cancer early detection, and going beyond traditional risk factors to better select populations for targeted cancer screening.
Highlights of this year's conference included: More »
February 3, 2019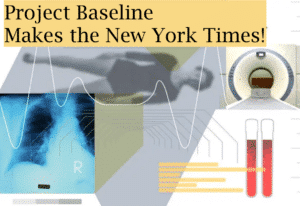 What if we could view changes in the body earlier than early to warn of possible disease? That is the aim of Project Baseline, to map human health. The New York Times published "Project Baseline Aims to Ward Off Illness Before We Get Sick" by Anahad O'Connor (Oct 2018).  The study is recruiting 10,000 adults. And each will be examined and followed for at least four years. So the goal is to discover the earliest warning signs of cancer, heart disease and other killers. Participants, the first of whom was enrolled in 2017, are called Baseline Explorers.
Project Baseline is the result of conversations in 2013, led by Google X's Andrew Conrad. He consulted with Dr. Sam Gambhir, MD, chair of Radiology at Stanford University and director of the Canary Center for Cancer Early Detection. And also with Robert M. Califf, MD, professor of Cardiology in the School of Medicine, Duke University.
Conrad (now CEO of Verily, a spin out of Google X) was interested in exploring with these two notable healthcare thought leaders, one in cancer and the other in cardiology, about how to create what has become a landmark study. Both had deep experience in working with large patient cohorts and focus on early detection of disease. The project has formed teams across the country.
Seeking to create a baseline of health
Traditional trials focus on those who have a disease. So Project Baseline, as the name implies, mainly enrolls healthy individuals gathering enormous amounts of information. Baseline equips enrollees with wearable technology from Verily that tracks sleep patterns, heart rhythms and physical activity. The team is developing tools and technologies to collect, organize, analyze and curate the data.
And investigators are determining the best ways to share data with participants that is helpful to them. They are looking at how they can engage with their medical professionals.
Canary Foundation and the Canary Center at Stanford for Cancer Early Detection
Dr. Gambhir has served as Canary Foundation's scientific director for more than a decade. He led the development of the Canary Center at Stanford for Cancer Early Detection.  The Canary Center is a partnership forged in 2008 between Stanford University and Canary Foundation under the leadership of Don Listwin, based on the foundation's mission. And interesting to know,  Canary Center is the first program Stanford has focused entirely on cancer early detection.