Blog
Archive for the 'Uncategorized' Category
November 22, 2020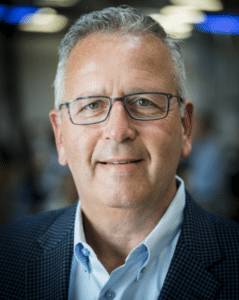 Dr. Joseph DeSimone
We welcome Professor Joseph M. DeSimone, PhD. in the position of the Sanjiv Sam Gambhir Professor in Translational Medicine. We are fortunate to have such creative and capable leadership as our work together in cancer early detection continues.
From the Stanford Press Release: The Stanford Department of Radiology is proud to announce Professor Joseph M. DeSimone as the inaugural Sanjiv Sam Gambhir Professor in Translational Medicine. A shining example of achievement, Joe has been described as "an igniter of innovation". He has received international recognition as a scientist, inventor, and entrepreneur, earning major accolades including the U.S. Presidential Green Chemistry Challenge Award, the 2017 Heinz Award, and the Lemelson-MIT Prize. He is one of only 25 individuals elected to all three U.S. National Academies—the National Academy of Sciences, Medicine, and Engineering. In 2016, President Obama presented him with the National Medal of Technology and Innovation, the highest honor in the U.S. for achievement and leadership in advancing technological progress. Read more here.
Joe and his lab have made significant scientific breakthroughs in science and medicine including next-generation approaches to cancer treatment and diagnosis, implantable drug delivery devices, green chemistry, and most recently in 3D printing technology for medical devices tailored to an individual patient's needs. A dedicated educator and strong advocate for bringing a broader diversity of perspectives into research, he has mentored over 80 students through PhD completion at Univ. of North Carolina and North Carolina State Univ. (his former 30-year career), half of whom were women and members of underrepresented groups in STEM.
As an avid researcher and innovator, Joe has authored over 370 scientific publications with over 42,000 citations to his work, and is a named inventor on over 200 issued patents. Additionally, he brings a unique ability to transfer novel solutions from his lab to the world through the companies he co-founded.
July 6, 2020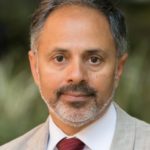 From the Stanford press release:
Sanjiv Sam Gambhir, MD, PhD, the Virginia and D.K. Ludwig Professor for Clinical Investigation in Cancer Research and Chair of the Department of Radiology, has received the 2020 European Society of Molecular Imaging (ESMI) annual award.
"The Committee recognizes Sam as one of the founding fathers of the field in which we all have the privilege to work. He has been a pioneer and visionary, a mentor and inspiration – thanks for your continuous and passionate dedication for imaging science."
The ESMI Award is given to an excellent scientist for her/his outstanding contribution to the interdisciplinary research in Imaging Science. The nominee must have contributed significantly to the knowledge in this field.
Congratulations, Dr. Gambhir!
May 1, 2019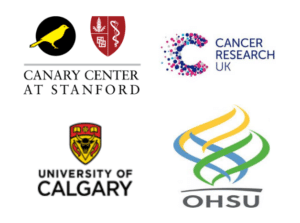 The Canary Center represents a partnership between Canary Foundation and Stanford University, where Stanford embraced Canary's mission as their own strategy for cancer early detection. The partnership resulted in financial support, involvement in our multi-institutional teams, and team management that includes goal setting, project advancement and help resolving road blocks. Stanford committed funds for lab renovations, other infrastructure assets and a rare offering of 8 faculty billets, the first ever fully dedicated to cancer early detection. Canary Foundation provides start-up packages for the faculty positions to get them going until they attract their own funding.
Silicon Valley, a region known for its concentration of technology and biotech development, provided the ideal hub to respond to the needs of early detection. This particular pooling of a strong clinical experience, research, engineers, and bioinformatics is what inspired other institutions to examine their local resources and how to coalesce them into an identified goal. Be it big data, molecular imaging, engineering or a unique research population, each center is adept at offering their dedicated resources for collaboration purposes.
The Canary Center showcases the need for the presence of transdisciplinary entities around one table, combining dedicated people, resources and strategy to an identified viable goal.
Today, this merging of resources is replicated in hubs around the world, not only taking Canary's approach global, but also catalyzing collaboration.
Our collaboration with the centers in Oregon, Calgary, and the UK testify to our approach that investment in talent, expertise and networks is the best way to tackle cancer early detection.
A good example of this international collaboration is Dr. Rebecca Fitzgerald's sponge (Cambridge) used to retrieve cells from the esophagus, and Dr. Utkan Demirci's technology (Canary Center at Stanford) capable of separating a mixed cell population. By combining unique sample types with unique technology, both US and UK centers are hoping to complement each other's work thus advancing cancer early detection.
10 years ago, we were the first physical location worldwide to concentrate talent, resources and partnerships all focused on cancer early detection. 10 years later, our influence has gone global with numerous cancer early detection centers, inspired by Canary's model, helping to push life-saving early detection to the forefront.
March 2, 2019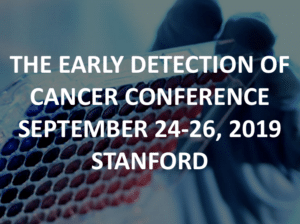 Many of you know, Canary Foundation believes in collaborations, including partnerships we have fostered on a global level. So this is to announce that registration is open for this second annual conference, a next generation outgrowth of our science symposium, led by our partners. The location is Stanford University.
Looking back to 2005, Canary Foundation held the first symposium fully dedicated to cancer early detection. Long before the term became common. What did we want to achieve? Our goal was to catalyze the field and bring early detection to the foreground. Early detection saves lives! By 2017, we were attracting 200 scientists and experts.  Together, they ask important questions, have dynamic conversations and form innovative ideas.  Additionally, presenters offer information on promising projects.
In 2018, our international partners took on leading the conference. The Canary Center at Stanford, Cancer Research United Kingdom, and the Knight Cancer Institute at Oregon Health & Science University together held their first in 2017. They also agreed to rotate locations. So this year, in 2019, the Canary Center will host the conference at Stanford University.
The Canary Center at Stanford represents a partnership between Canary Foundation and Stanford University. You may know, we celebrated the opening in 2009 as the first research center in the world, entirely dedicated to cancer early detection. Cancer Research United Kingdom is the largest independent funder of cancer research globally. The Knight Cancer Institute at Oregon Health & Science University, is a leader in precision cancer medicine. To visit the conference site and register: Early Detection of Cancer Conference
December 24, 2018
Listwin was one of only three recipients selected in 2018 to receive the highest honor bestowed by the Stanford University School of Medicine, the Dean's Medal, which is presented to individuals who have significantly advanced the mission of Stanford Medicine.
Living through his mother's death from ovarian cancer left an indelible mark on Listwin and inspired him to work toward progress in early cancer detection. Listwin's role in helping to create today's global internet infrastructure through multibillion-dollar technology investing and management, including a decade at Cisco Systems, enabled him to step back from his operating roles to build the Canary Foundation.
Today, 15 years later, the Canary Foundation has grown from a startup nonprofit to a leader in the development of early cancer detection programs, including the Canary Center at Stanford and many others in the United States and abroad. The Canary Foundation is the only nonprofit exclusively dedicated to research in the field of early detection of cancer. The Dean's Medal honors Listwin for his service in the scientific and philanthropic communities that have advanced precision health.
"My thanks to Dean Minor and the entire School of Medicine organization," Listwin said. "Over the past decade, a theme of partnership has emerged in my pursuits in the medical field, and none has been stronger than at Stanford. Whether working with Dr. Sam Gambhir to build the first comprehensive early cancer detection center or launching a modest vision clinic in Belize with Dr. Caroline Fisher, there has always been support from the School of Medicine. My current pursuit in the field of stroke also found it roots at Stanford. It is a privilege to be able to engage in a spectrum of work in the field of medicine with the best in the world to help solve these critical problems."
The other recipients are Carla Shatz, PhD, the Sapp Family Provostial Professor, the David Starr Jordan Director of Stanford Bio-X and a professor of biology and of neurobiology; and Ron Johnson, founder and CEO of Enjoy, a company that hand-delivers technology products and helps customers set them up.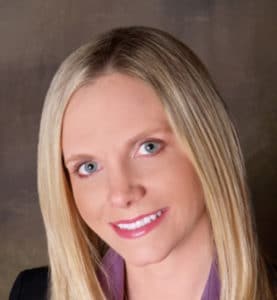 Christina Curtis, PhD, assistant professor of medicine and genetics and an associate member of the Canary Center at Stanford for Cancer Early Detection, was awarded the Pioneer Award in October from the National Institutes of Health. The award provides up to $3.5 million, dispensed over five years, to investigators at all career levels to pursue new research directions and develop groundbreaking, high-impact approaches to a broad area of biomedical or behavioral science.
Curtis plans to use her award to study how human tumors develop and to predict their progression. Her research focuses on understanding cancer systems biology, or the complex way in which many aspects of biology interact in healthy and diseased states. Akin to weather forecasting, the goal is to ultimately allow clinicians to anticipate how a tumor will behave over time, as well as to steer its course and tailor treatment options.
"Characterizing how a patient's tumor changes over time, adapts to therapy and sometimes spreads to other tissues is challenging since this process often cannot be directly measured," Curtis said. "Yet, learning cancer's evolutionary rulebook will give us clues about a patient's prognosis and is a necessary step toward the development of predictive models."
To overcome these challenges, Curtis has developed powerful computational and statistical techniques to infer an evolutionary history of tumors by analyzing the patterns of mutations present in their genomes and comparing these with virtual tumors simulated under different scenarios. She is also working to measure tumor adaptation during development and tumor progression in real time by leveraging new methods to trace cell lineages.
August 6, 2018
Today we want to take the time to introduce you to the Canary Center's Canary CREST internship program. The Canary CREST program pairs outstanding undergraduate students with a faculty member at the Canary Center at Stanford who then goes on to mentor them over the course of the summer. Interns work on their own personal research project with the guidance of their mentor and then present their work at the end of a summer in a poster competition held at the Canary Center at Stanford for Cancer Early Detection.
Over 200 undergraduates applied to the program, of which 27 outstanding applicants were accepted. Students come from universities located all over the country, with schools such as Yale, Stanford, Rice and an assortment of UC schools represented. This year's class of interns are evenly divided between rising sophomores, juniors and seniors.
In addition to conducting research, the interns get the opportunity to participate in weekly classroom sessions where they learn about current research in the field of cancer early detection. They also get to participate in workshops where they hone their communication skills, are taught how to critically evaluate research, and learn about research ethics. Interns also have the opportunity to attend seminars on the Stanford campus where they get to hear from industry professionals who work for a range of companies from startups to large corporations. Interns are also given the chance to visit companies such as Verily, Google's life sciences division.
July 30, 2018
Canary Foundation has helped launch a new website devoted to PASS (Prostate Active Surveillance Study), our research study for men who have chosen active surveillance as a management plan for their prostate cancer.
The website includes the PASS Risk Calculator, a new tool designed to estimate the likelihood that a participant's prostate cancer will become more aggressive and require treatment.
July 11, 2018
In an effort to further the understanding of early-stage ovarian cancer and find potential ways to detect and treat it, Canary is collaborating with the BRCA Foundation on a new ovarian cancer initiative.
This initiative is being lead by Ronny Drapkin, MD, PhD, Director of the Penn Ovarian Research Center and Director of Gynecological Cancer Research at the Basser Center for BRCA at the University of Pennsylvania, and Chuck Drescher, MD, a gynecological oncologist and research scientist at the Fred Hutchinson Cancer Research Center and Director of Gynecological Research at the Swedish Medical Center in Seattle.
Why Now?
While there have been advances in the treatment of ovarian cancer, the same can't be said for the development of accurate methods for detecting ovarian cancer early. As a result, most cases are diagnosed once the disease has spread beyond the ovaries to other organs.
"The most common clinical tools for diagnosing ovarian cancer, CA-125 and TV sonography, are based on technologies that are more than 25 years old," Drescher says. "We must do better."
Fortunately, recent scientific developments are reorienting research toward early detection by shedding light not only on how ovarian cancer forms in the body, but where it forms. It is now known, for example, that a substantial number of cases traditionally referred to as ovarian cancer don't originate in the ovaries at all. They begin in the fallopian tubes, the structure immediately adjacent to the ovary.
"There's been tremendous progress in our understanding of ovarian cancer in the last 5 to 10 years, and it is that progress that is serving as the basis for this new Canary initiative," Drapkin says.
Watch the video below to learn more about these new developments in ovarian cancer.
About the initiative
"Our plan is to put together a multi-disciplinary team of 20 to 30 preeminent ovarian cancer research scientists," explains Drescher, "and provide financial resources and access to the critical specimens, samples and patients that are necessary to do the types of research we are planning."

In order to accomplish this, Drescher, Drapkin and other co-leaders are putting together an advisory committee that will meet for the first time this fall. The group has several goals it hopes to achieve within the next year.

The first is to identify four or five clinical centers nationwide that are ready to participate in the program. These centers will be selected based on their expertise in ovarian early detection research, their ability to reach out to patients at high risk, and their ability to contribute to the development of next generation early detection tests.

Another goal includes establishing a "bio bank" that will include tissue, blood and other samples from women with very rare, very early forms of ovarian cancer that could be used in future studies.

"It is our vision to create a self-sustaining network of talented clinicians and researchers with access to critical clinical samples and patients and the infrastructure to do collaborative research," Drescher says. "We believe it is the best path forward to getting new tests to women and saving lives from ovarian cancer."
April 12, 2018
Canary Foundation's new partnership with the University of Calgary in Canada took shape recently with the announcement of four early cancer detection seed grants.
The seed grants are funded by Canary Foundation and the Charbonneau Cancer Institute at the University of Calgary. Recipients of the grants come from across the University of Calgary in the Cumming School of Medicine, Schulich School of Engineering and Faculty of Science.
The work of the recipients will focus on early detection of bladder, breast, colorectal and prostate cancer.